Discover more from Worcester Sucks and I Love It
Writing about cities through the lens of Worcester, Massachusetts, the particularly dumb little city I live in.
Over 3,000 subscribers
Hello Binienda, my old friend
With the superintendent review this week, it's time to check in on the state of the schools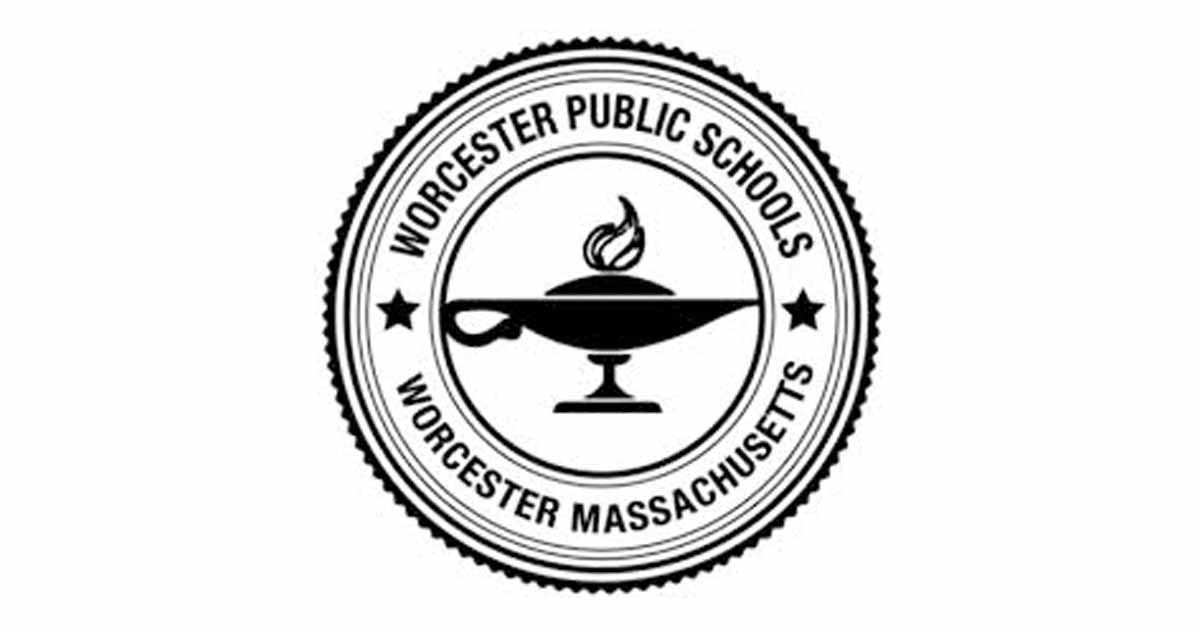 Superintendent Maureen Binienda is getting reviewed by the School Committee this week and coincidentally there have been a lot of things lately that remind us that the Worcester Public Schools has a deep problem with systemic racism despite the constant attempts by Binienda and the ghouls on the School Committee to downplay and brush it under the rug. Let's get into it.
First, let's take a look at the union. A group of 60 Education Association of Worcester members released a statement today blasting union leadership for "deep concerns, frustrations, and embarrassment over the recent public statements made by our EAW President Roger Nugent."
They're upset that Nugent told the Telegram in June that the "vast majority" of teachers support having cops in schools. He did so without any polling and they're like wait a minute here, how do you know that, Roger? Apparently after the fact, on July 10, the union put out a poll on whether members support cops in schools. It's been almost a month now and they haven't released the results of the poll so hmmm, maybe it didn't go the way Nugent wanted. I caught up with a few members of the group, and they said they're doing this so Worcester kids know that the union leadership doesn't speak for all educators and there are actually good people in Worcester Public Schools buildings who support the cause.
"We want to let our students know we care and we're there for them to understand their pain. Institutional racism happens everywhere and unfortunately we did one step forward and twenty back," Yahaira Rodriguez, an educator and member of the group, told me.
Roger, on the other hand… not so down with the cause. I caught this little tidbit trolling the police union Facebook page yesterday.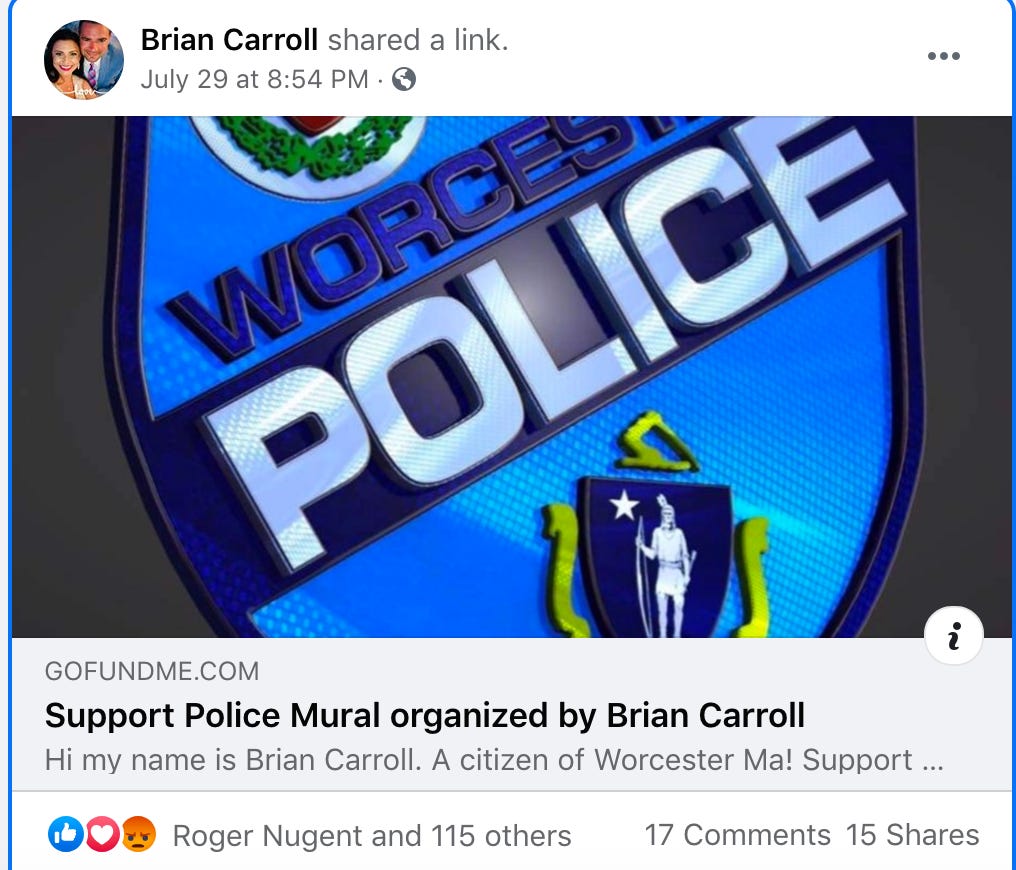 That right there is Roger liking the GoFundMe page for a retaliatory Blue Lives Matter mural in Worcester. This is the person making important decisions for the EAW every day. I know just through the grapevine that he's buddy-buddy with the superintendent, which shouldn't inspire any confidence he's on the side of the laborers he is supposedly representing. You really want your union head to have at least a mildly antagonistic relationship with the administration for the union to accomplish anything substantial.
I got Nugent on the phone yesterday afternoon for a couple uncomfortable minutes and I pressed him on the poll and the results and why they haven't been released. He said he's having a meeting with union membership today and plans to maybe release the results of the poll then. He said he hopes the meeting will "clean up any issues" that members are having, which seems doubtful. I'm very curious to see the results of this poll and I still think it's unlikely the results would have ever been released had this group not come out and put him on blast. He also said the decision to release the poll results is a committee decision, not up to him alone, so… is the committee going to meet tomorrow before the member meeting and vote on that? Felt like he was leaving himself a lot of wiggle room on that one.
I also asked him to directly respond to the group's assertion that he has ignored their concerns with the way he speaks about police officers in schools, and he said "yeah, I don't really know how to respond to that." So that's good.
Maybe we'll have the poll results today, maybe we won't, but the point stands that educators are pressing their union leadership to do better on race issues and support Black Lives Matter publicly, and that isn't happening. Nugent supports cops in schools in lock-step with Binienda at a time when districts across the country are correctly assessing that cops in schools are not helpful and in fact actually reinforce the systemic racism inherent in public education. All this Nugent business is germane to the superintendent's review for a reason I will get into later.
But now is as good a time as ever to bring up one of my new favorite Instagrams, Racism-Free WPS, a mostly anonymous chronicling of incidents of racism and sexism in the Worcester Public Schools. The stories here are awful and speak to the very problems that Binienda and most of the School Committee have tried to downplay for years.
Here's an especially telling one.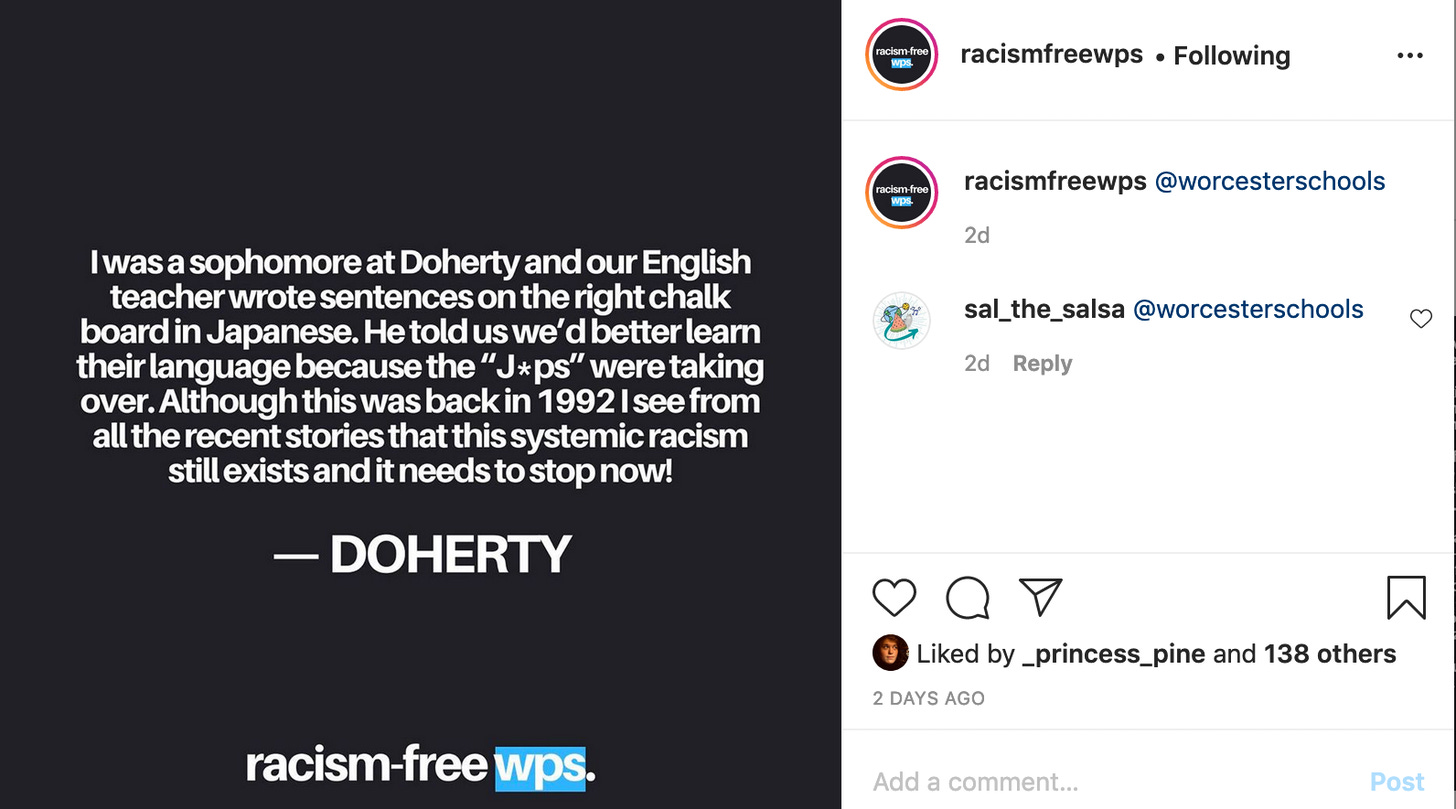 This is reminiscent of the time that Binienda deadass said Asian students don't want to go into teaching because they'd rather be doctors. She actually said that last year in a public forum.
This one is heartbreaking and indicative of the way in which schools reinforce systemic racism.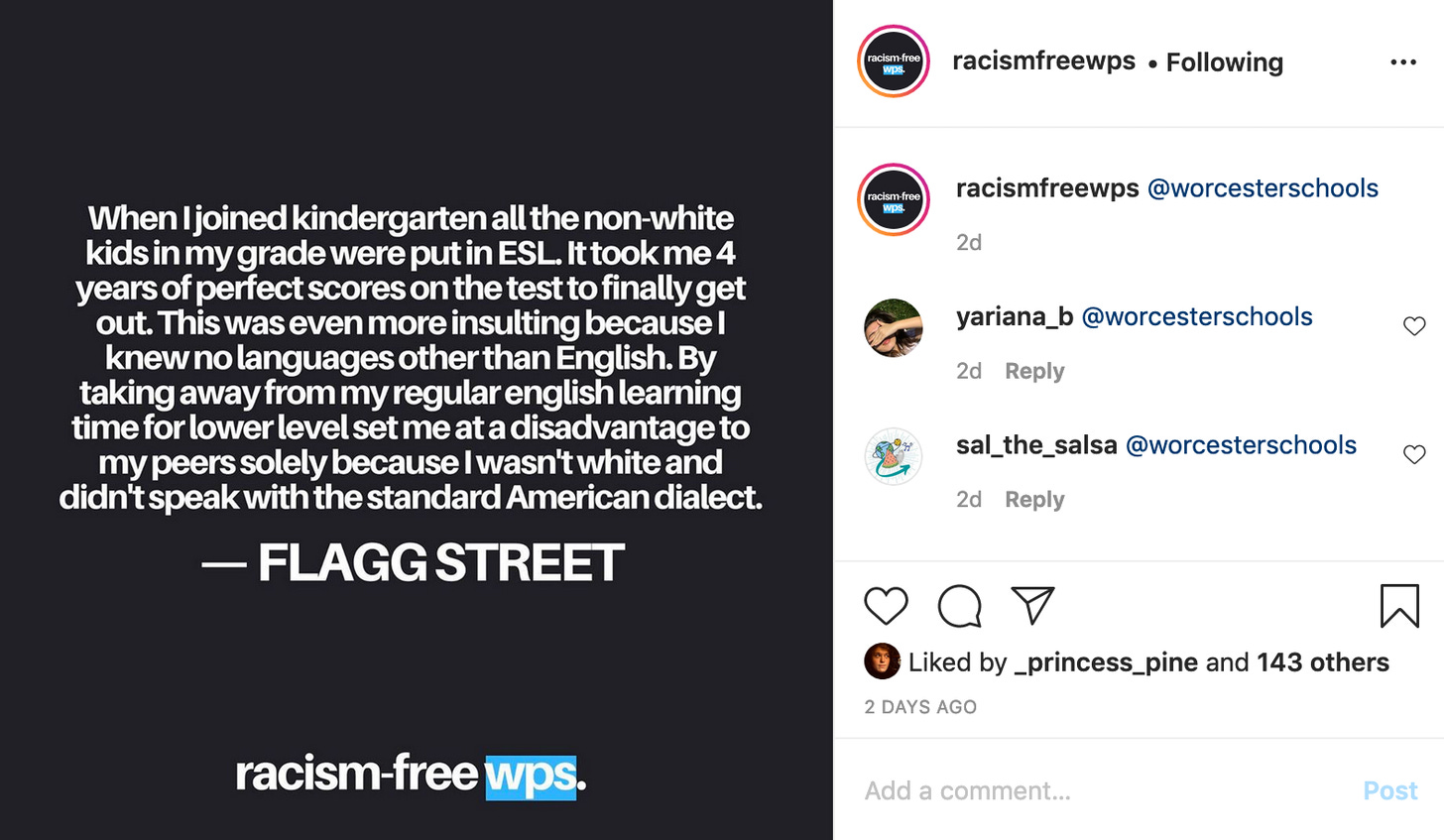 There's a ton of posts and they're all varying levels of sad, frustrating and horrifying. I'm in touch with the people who run this instagram and I will likely run an interview later this week, inshAllah.
For those of you who were not paying attention to the School Committee last year—and I don't blame you because oh my god is it awful—I am going to give you a little history lesson.
Discipline rates in the Worcester Public Schools are extremely racially disparate and they have been for some time. Last year, this became a hot issue for a couple weeks but the district ended up doing very little about it which, if you've been reading my newsletter and my Worcester Mag column before that or just plain paying attention, should not surprise you. Here's the upshot, from a story I wrote last year.
In particular, according to the Worcester Coalition for Education Equity, the school district is failing Latino students, citing numbers from the state Department of Elementary and Secondary Education showing they make up 42.9 percent of the students in the city's public schools. According to the group, formed by Worcester Interfaith, which is comprised of local clergy and community members, English learners have the highest dropout rate (5 percent) of all students, followed by Latinos (3.4 percent). Latino students, they noted, have the highest chronic absenteeism and disciplinary exclusion rates (19.9 and 11.5 percent, respectively).
Last May, a group of people called for the non-renewal of Binienda's contract, saying she's done little if anything to curb racial disparities in discipline rates. There were literal protests and heated public meetings and a sit-in outside the City Council chambers, but everyone involved was for the most part a person of color and it didn't go anywhere, surprise surprise. At the last meeting, Binienda had all the building principals and representatives of the bus drivers union for some reason fill the public seating area of the City Council chambers as she got her contract renewed. It was a show of townie political power, which is how Binienda got the job and it's how she's going to keep it. She doesn't have to do anything about race issues in the schools because she has the townie coalition on her side and the power of that in a city like Worcester cannot be underestimated.
The townie coalition is so powerful that School Committee member John Monfredo can say that he's never seen an instance of racism in all his years and years at Worcester Public Schools. He actually said that last year and he probably meant it because his brain is smooth like a baby's bottom. Most of the School Committee is more of a Monfredo type, giving them a majority of townie power that really from the outside seems like it's only interested in keeping the townie patronage system in the district alive.
So we're headed into her annual review on Wednesday afternoon, and for all the above reasons I'm not expecting it to go well. School Committee member Tracy Novick has a good rundown of how it works on her blog, but all you really need to know is that every School Committee member will give her a grade and all of those grades are tallied up and this supposedly impacts her priorities and goals for the upcoming year. It would work that way if most School Committee members didn't use the review as an opportunity to kiss the ring but so it goes I guess.
You can expect glowing reviews from Monfredo, Diana Biancheria, Laura Clancey, Molly McCullough and Joe Petty. You can expect Novick and Jack Foley to take the review process seriously and criticise Binienda's work. But that's only two on a committee of seven so please run for School Committee next year, thank you. The only thing you can do about the townie coalition is outnumber it, it's not going anywhere.
This has been a theme of my posts lately, hasn't it?
Binienda comes from the same system of townie power as Police Chief Steven Sargent and City Manager Ed Augustus. Families that have built power in the city over generations and wield it for the sake of it. It's the kind of power that gets you a complacent head of the teachers union and City Council members who believe that Worcester cops are different from cops elsewhere and School Committee members who believe racism doesn't exist in the schools. In order to change a system you have to understand real power and Binienda has real power and that power is far greater than the power she wields as superintendent. She's on a short list of most powerful people in the city. If she doesn't want to do anything about the obvious racial disparities in Worcester Public Schools, she doesn't have to.
I'm saying all of this to hopefully fire up some people to do something about it, but I'm also venting. I want so badly to see Worcester move in a good direction and there are so many people out there doing great work like the aforementioned teachers and instagram account, but we're faced with deeply entrenched networks of power that won't be easily uprooted and resist change at every turn.
On Thursday, there will be a front page story in the Telegram about a glowing review for Binienda.
~/~
Some personal news, I hit 400 paying subscribers and 1,000 total email list, which is just absolutely awesome. I'd like more though so I can do this full time because my sweet babies I am getting close. If you subscribe but don't pay that's cool but what's $5 a month to you really? That's like, a beer.
I was away camping this weekend and I had a blast but I missed quite a bit here in Worcester. This protest seemed like a good one and is very much in line with the things I wrote about in here.
I will write about this should I get any better information but it's sort of weird they only gave the guy who did a burnout on the Black Lives Matter mural a traffic ticket, isn't it? Expect more on this.
I really like this graphics that Tom Rheault, a cool Worcester guy, came up with. Wish it were more the case but we'll get there eventually.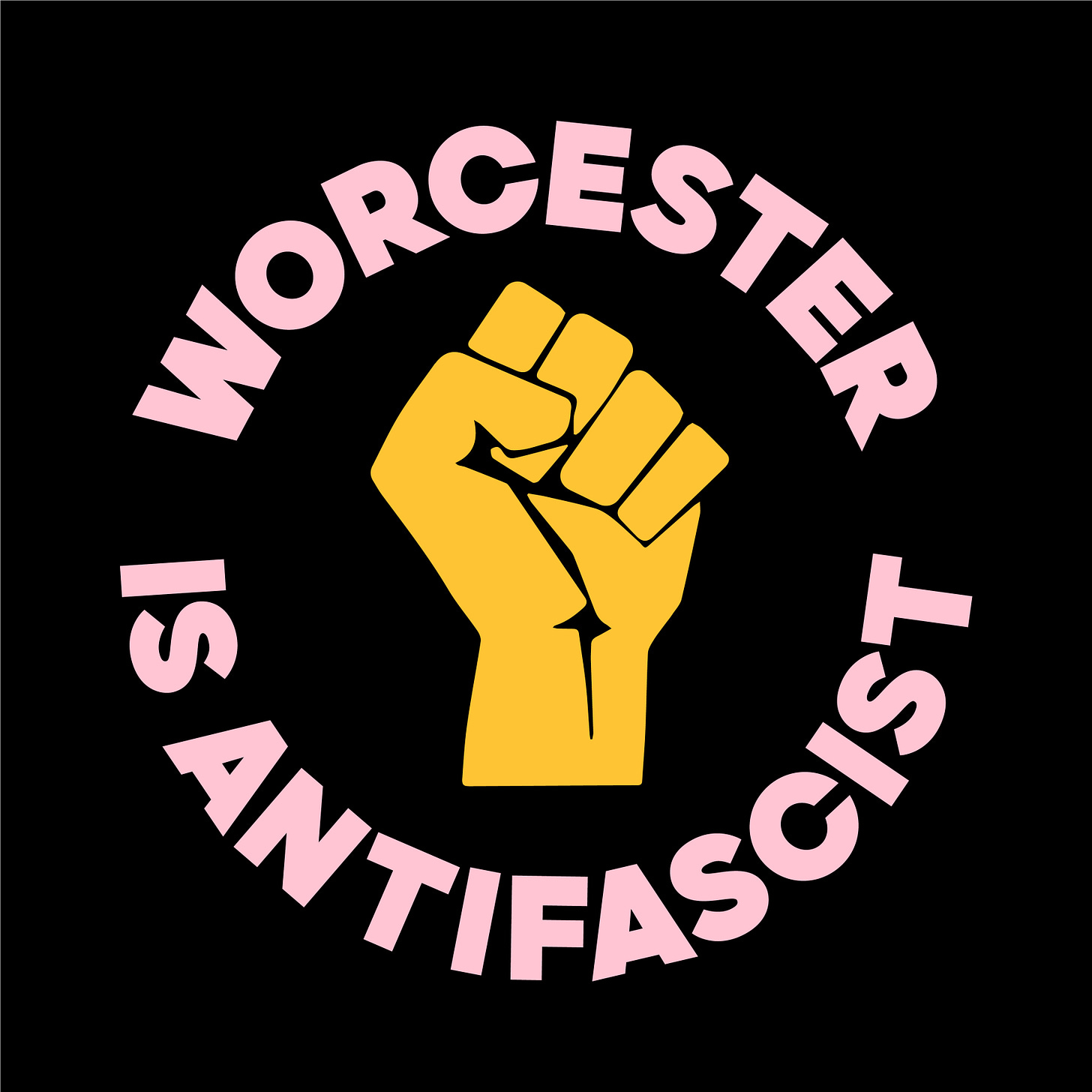 That's all, folks!